I used to have difficulties to explain to a friend or family member what I do. That "I develop sites, forms and workflows to help businesses perform better". Sounds rather dull and evasive, right? Be honest! 😉
Nowadays, workflows are not the privilege of only corporations, but small businesses too and certainly any individual, for their own benefit: avoid doing repetitive tasks.
And therefore, when I explain what I do, I now tend to say something like:
I make systems that help you to be more organised, with the tools you already have or didn't know you could use.
Yes, we are talking either your computer, smartphone, activity tracker or even home light switches.
Depending on the tool used, the term 'workflow' is substituted with "rule", "recipe", "applet", "process" or "flow".
So, the quote "Workflow for Everyone" that Nintex used a few years back is moreover true today, and across a wider range of services. With Nintex Workflow Cloud, IFTTT, Zapier, Microsoft Flow, Fujitsu RunMyProcess and others, there are dozens of ways to automate your daily tasks, here are a few of the ones I use to automate the admin side of my work.
PRODUCTIVITY ENHANCEMENT (or "personal workflows")
TIMESHEETS, EXPENSES and INVOICES
As a consultant, I may work on different projects and clients in a single week and cannot always pause to report on which I have been working on at the end of each. I use an online accounting portal that my accountant have full access to and each time I finish a work item I input the times in the mobile app, even for a 30 min task. At the end of each month, an invoice is automatically generated for each project that has hours spent, and the portal will send it to my client as a PDF, including an automatic reminder for late payment.
When a PaperBlade crew member claims an expense, they can use the mobile app to scan the receipt and enter the amount and description.  If it was related to a project it will automatically be added to the client invoice.


Unlik

e a personal bank account, having a business means that every bank transaction is accountable for. After years of uploading statements to my accounting portal, I switched to one of the banks that can automatically and securely feed the transactions into my portal. This way I can reconcile and explain the operations from my mobile phone.
Click here to find which bank provides feed in the UK.
Although SharePoint can do great things to improve productivity, its collaboration at item-level is not yet the best for small businesses. We needed a way to write a task, i.e. "create new site" and a developer to be able to ask any questions regarding that task, have the response in the task history, and move the task to the next stage until "done". So we went for Asana.



I have setup these automatisms:
– "when new project created, create a new task in accounting portal"


– "when new item in Asana project [Support], create a new ticket in support portal"



– "when new user is added to Asana, create a new contact in Office 365"


STREAMLINE CONTACTS MANAGEMENT
At PaperBlade we are proud to maintain a close relationship with our clients and it is important that they are kept up to date with our news. We run an opt-in mailing list with a link to unsubscribe easily.
– Each time a new contact is being created in our CRM a new entry is also created in our marketing list, using a Zap.



– When I add a new contact to Office 365 Outlook a new entry is added to the mailing list,


– Each time a contact is added to our accounting portal a new contact is added to MailChimp.


HOURS SPENT IN A LOCATION
I use two workplaces around London when not at clients, and one of them is limited to a number of hours per month on an honesty principle. I did not want to not know if I was over the hours and no way that I was going to remember or write down how many hours I have each month, so I used a simple workflow to log an entry each time I enter the location and each time I exit. It is then easy to have a repeated formula to total each hours per month.
IFTTT has an iOS App that can be triggered on a Geolocation, and write to a spreadsheet the time. The battery consumption isn't too bad and I have used it for 8 months already.


Unfortunately, IFTTT does not offer to write directly into a SharePoint list or Excel Online but it would be quite easy to extend this using CSOM.
SAVE EMAIL ATTACHMENTS TO ONEDRIVE
Last but not least, if only one FLOW should be used, is to automatically save all attachments received in Inbox to your OneDrive.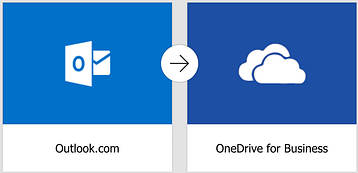 I hope for these tips to be useful to more people to automate their year in 2017, and I will post some more "personal" ones soon, from activity tracking (without a smart watch), sleep analysis to a few home automation that I use.
Please comment below with your own automatisms.
And Happy Productive Year to everyone!
François.